CELEB SPOTTING! Mercy Johnson and daughter Purity.
30th July 2014 Over now to Instagram where we have been keeping track of your favorite stars.
Nollywood actress Mercy Johnson and her adorable daughter Purity were spotted in the US looking cute in matching white attires. The movie star is expecting her second child with Prince Odianosen Okojie.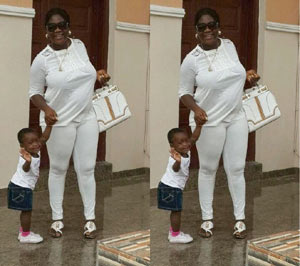 Who wore it better – mum or daughter? You decide.
Yvonne Nelson sizzles in Denim
Actress Yvonne Nelson has never failed to impress fashion-wise.
She was spotted in Accra donned in Versace and Louboutins accessories to go with her denim look. She even admitted to lacking a certain something for the ensemble (pronounced onsomble) – a bum.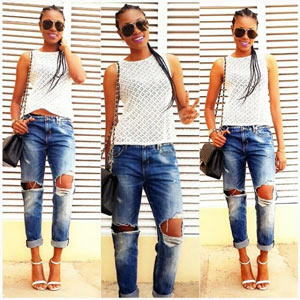 Better luck next life dear!
Juliet Ibrahim and Tuface Idibia in Dallas.
Meanwhile, multinational beauty Juliet Ibrahim was spotted with Nigeria's Tuface Idibia in Dallas. The pair seem to be recording a video together which will be cooked together by Skelewu director Moe Musa.