Forbes confirms Mo Abudu as First Woman in Africa to launch a Pan-African TV Channel
Famous Talk show hostess, Media personality and TV producer par excellence, Human Resource Management Consultant, Entrepreneur and Venture Capitalist extraordinaire and CEO EbonyLife TV, Mo Abudu, has been named the first African woman to establish and launch a pan-African TV Channel by Forbes.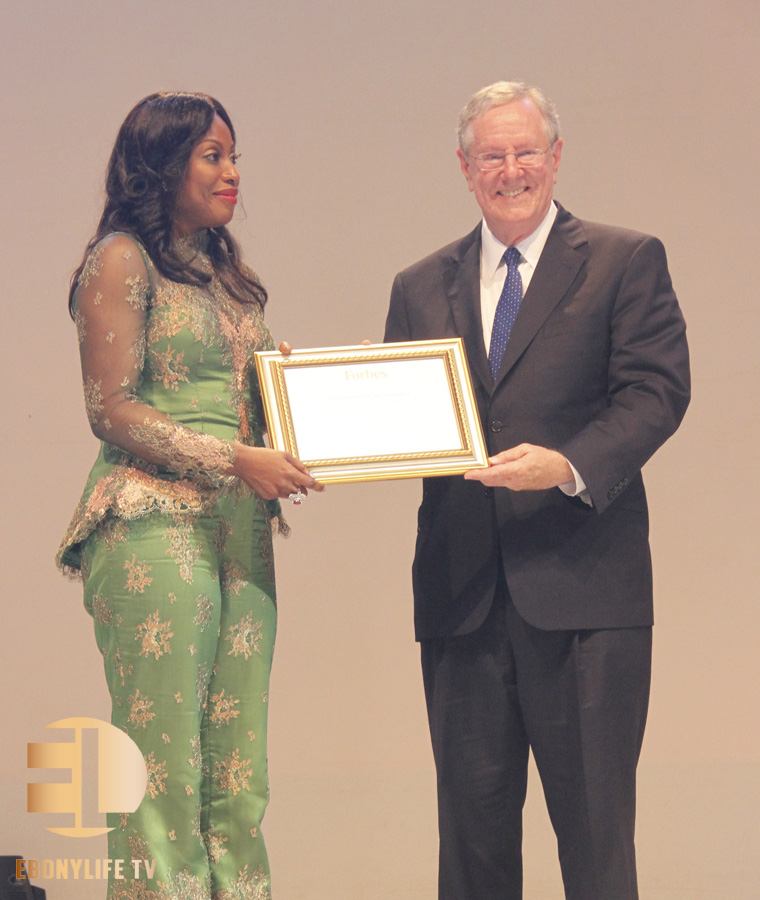 TINAPA, CALABAR (AUG 01, 2013) Forbes Media, world renowned establishment which has become a symbol of distinction over the world for recognizing worthy business decision-makers, investors and progressive individuals for making real impact around the world by stimulating business growth, spearheading innovation, creating employment and influencing great change in the economy of the world, or of their nation, has named Mo Abudu as the first woman on the African continent to own a pan-African TV channel.
 In the best of Forbes Media tradition, this honour is coming to the industrious and illustrious Mo, known vastly within and outside the industry as Africa's Queen of Talk, after months of intense research and a thorough verification exercise by Forbes.
 An incontrovertible position, the award, no doubt, firmly affirms and establishes Mo Abudu as a true primus inter pares who has indeed treaded grounds that many may have considered an uphill task even for some of the highest flying African women. The dogged, tireless and steadfast visionary known for her simple, timeless and inspirational mantra, "If you can think it, you can do it", has continued to blaze the trail in many areas, expanding possibilities and being a huge inspiration to millions in Africa and many parts of the world.
 She has made her mark in diverse fields of endeavor, which cut across the corporate world as an Executive in ExxonMobil for nearly a decade; she was the promoter behind the Protea Hotel Oakwood Park, of which she remains a shareholder and director; she was the Founder of Vic Lawrence & Associates, now one of Nigeria's leading Outsourcing firms, and most recently in the dynamic world of media, she is the Creator, Executive Producer and Hostess of "Moments with Mo".
 Moments with Mo is Africa's first and only syndicated daily talk show. It airs across 48 African countries and on cable TV in the United Kingdom. In over 7 years of its existence, Moments with Mo has transformed the face and flavor of African TV. The show has been able to achieve this feat by constantly seeking to build and project a new, stronger, more independent and confident Africa. One that speaks for itself, celebrates its people and achievements, and solves its own problems.
 Over the past 7 years of its existence, Moments with Mo has hosted an impressive list of guests. From Presidents to Nobel Laureates; celebrities to Governors; and even the US Secretary of-State, Mrs. Hilary Rodham-Clinton on her visit to Nigeria, and of recent, Christine Lagarde, the Managing Director of IMF.
 Over the last few years Mo has developed other TV properties to include "The Debaters", a highly intellectual, but vastly motivating, innovative and entertaining reality TV show that gives the youth of Africa a voice; and "Naija Diamonds", an award winning documentary series, "Celebrating the Unsung Heroes" of Nigeria.
 Mo is also proud of her philanthropy work with The Inspire Africa Foundation and in partnership with Moreno Construction, The Harbour, a one hundred-bed home for Street children in Lagos, is near completion.
 Mo is a great believer in the media, and her strong persuasion about using media and entertainment as a tool to change global perceptions about Africa and to advance various social-economic agenda, is the driving force behind EbonyLife TV.
Being the first African woman to establish, own and run a Pan-African TV Channel is no mean feat. The quest began as far back as 2006 when the multiple-award winner began exploring the possibility of getting a channel on Sky in the UK. This has yet to happen but it will happen soon. She had also earlier approached Multichoice with a channel opportunity request. But the EbonyLife TV journey set sail four years ago, with Mo Abudu weathering every storm to see to the eventual signoff from Multichoice in 2012.
 Today, EbonyLife TV is established and positioned as Africa's first Global Black Entertainment Network, engaging like never before, and talking to especially the youth of Africa, aged 18 to 34, the custodians of the present and of the future, and key drivers of arguably the most vital segment of the economy.
The Roll Out of the Channel is Pan African via the DSTV platform by virtue of the channel distribution agreement signed with Multichoice Africa in 2012, and a Joint Venture Agreement signed with the Cross River State Government on building Africa's first Global multi-broadcast platform at Studio Tinapa.
EbonyLife TV is equally powered by Globecast, the leading global provider of content management and worldwide transmission services for professional broadcast delivery, whose responsibility it is to provide technical backbone and drive EbonyLife TV's content distribution on Android, Tablets, Mobile and the Web.
On the DSTV platform EbonyLife TV will immediately be broadcasting to and watched in 44 countries in Africa and will be available on Premium, Compact and Compact Plus packages, to over 8 million viewers. The EbonyLife TV Roll out distribution strategy also includes other TV Platforms in the UK, United States, Brazil, Canada and other parts of Europe.
Mo Abudu, an infectious, passionate and focused go-getter, has built around herself a world class team of industry experts, including broadcast operations experts, technical and production crew from the most diverse of backgrounds, who are committed to the vision of building Africa's first global black media and entertainment network.
Follow us on Twitter @EbonyLife_TV
Like our Facebook Page: EbonyLife TV
Web: www.ebonylifetv.com