Libyan Media and Art students showcase their talents.
Apr 4, 2016 The Media and Arts Faculty at Misrata University recently opened its doors to media professionals, artists and musicians in a week-long event aimed at showcasing its students' talents and accomplishments.
Established in 2014, the faculty caters to students looking to build a career in radio, television, photography, journalism, music and fine arts.
The open day event featured an art exhibition by the students, which attracted a lot of praises from professional artists.
Ruwaida al Sharkasi, a local artist, who supported the organization of a student exhibition, said:
"The faculty of Art and Media has provided the opportunity for students to pursue their passions and also gave an opportunity for those that are talented to showcase their talents, culturally, artistically. In Libya especially we need to change our outlook on arts and culture. We need to work to support these young students and their talents,"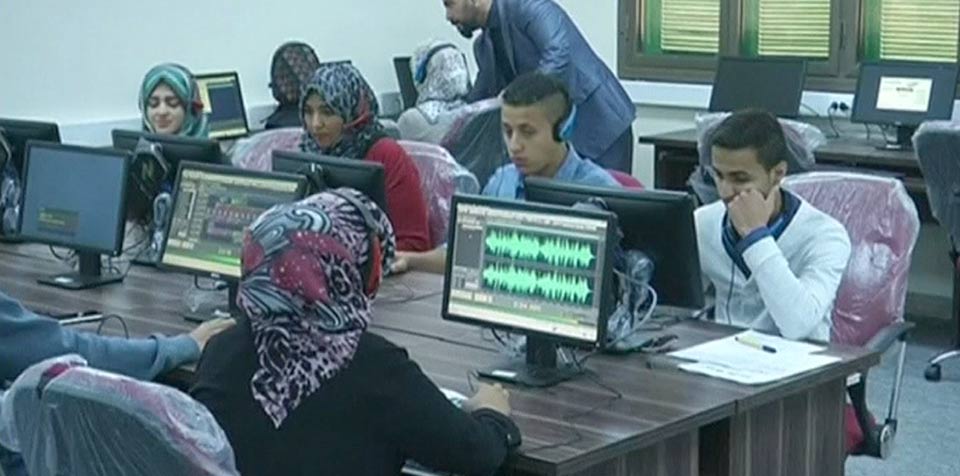 Professors at the faculty said they were pleasantly surprised by the level of talent displayed by the students.
Speaking to this effect, Anwar al Teir, an arts professor said:
"A lot of the art work was praised by artists that visited the exhibition. One businessman who owns a hotel has even said that he would use some of the art work to decorate his hotel. That's a beautiful thing. Others have also approached us to ask if they could buy some of the paintings. Some paintings are going for 1000 Libyan dinars ($725 USD), and 1500 dinars ($1090 USD),"
For the students, the department has provided them an opportunity to pursue their chosen careers, despite the five years of conflict that has engulfed the country since the Arab Spring.
Aya Muftah Azouza, a first year student said:
"It was always a dream of mine since I was a child to become a journalist. When I graduated I heard about the opening of the arts and media college in Misrata, I worked hard and applied and registered,"